Feeling bold? 5 of the best adventure fitness trips in NZ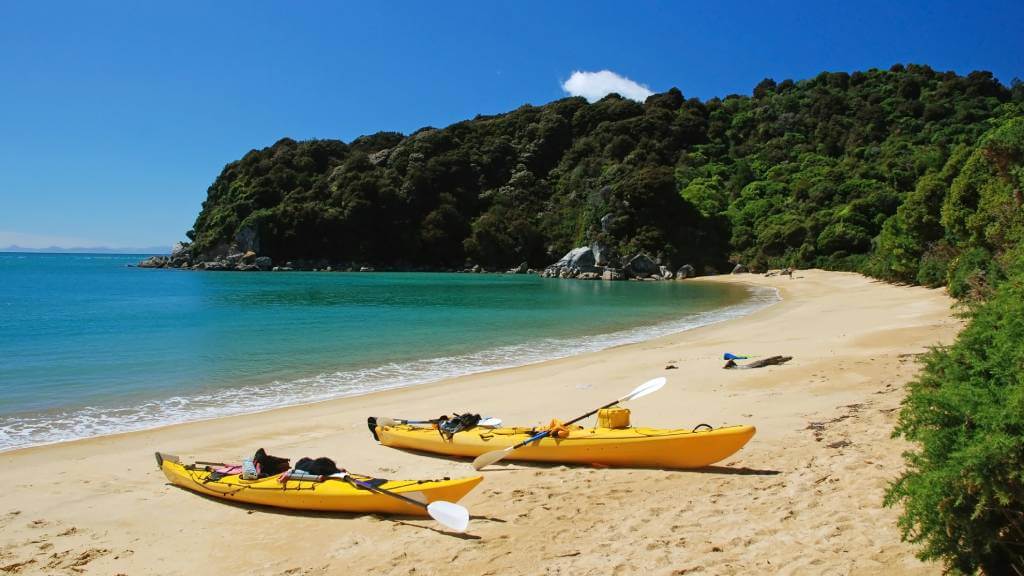 New Zealand is the perfect 268,000 square kilometre playground for grown-ups. No matter where you are in the country, or where you're planning to visit, there are countless activities and adventures to try along the way.
So when you're next feeling like stretching out the legs and testing your mettle, check out one of these thrilling and blood-pumping fitness trips in New Zealand. Friendly note; all of these are relatively safe, but as with any outdoor activity it's best to assess the personal risks involved before going ahead.
1. Kayak in the Abel Tasman National Park
The Abel Tasman National Park is a sparkling gem in New Zealand's crown. It is resplendent in golden sands, lush forests set just back from the beach, and warm, clear waters across an endless coastline.
Taking a kayak out onto the water here is like floating into a dream, as you explore bay after bay, each more perfect than the last. You can hire a kayak and head out on your own, or opt for a guided tour. Either way, the sheer beauty of the place will help distract you from the growing ache in your arms as you paddle.
2. Canopy tours in Rotorua
A canopy tour in Rotorua will give you a whole new perspective on the bright and beautiful plant life of our forests.
You'll walk across high swing bridges, zipline over canopies, stroll through thick forest, and get up close and personal with the verdant ferns, mosses, and fungi of Rotorua's natural landscapes.
Depending on which tour you take, you'll even have the chance to feed native birdlife and – for those after a slight thrill – take a tandem zipline with your best adventure ally.
3. Canyoning in Piha
When was the last time you slithered into a wetsuit and jumped into a canyon?
Canyoning fuses swimming, rock climbing, abseiling, and a whole lot of adrenalin-pumping action to remind you you're alive. It will introduce you to some of New Zealand's untouched scenery that you can't see any other way, and will test your sense of adventure like little else.
Head to Piha Canyon just behind the famous beach for an unrivalled canyoning experience. Be sure to book a tour if you're new or inexperienced with the activity.
4. Bike the Central Otago Rail Trail
The Central Otago Rail Trail is our original Great Ride, covering 150 kilometres of spectacular South Island scenery and introducing locals and visitors alike to the history and culture of the area.
The trail itself was built for trains, so it is wide and relatively flat, making it an easy ride even for bike novices. It can be completed in a leisurely three or four days, where every turn of the pedal will make you appreciate our country just a little bit more.
5. Boating in the Hauraki Gulf
The Hauraki Gulf is a smorgasbord of fun in the sun just waiting to be explored. There are countless islands within an hour of Auckland, and endless sun-soaked, picturesque bays where you can stop for a swim or even a paddle to shore for a picnic on the beach.
Motuihe Island is a favourite amongst boaties, as is Browns Island and McKenzie Bay. If you're not lucky enough to have a friend who owns a boat (life goals), you can hire a small boat for an afternoon to take for a spin and an adventure.
Finally, as much as New Zealand is massively exciting and adventurous, it is important to know your limits. Kayaking might not be ideal if you've never learned to swim in deep waters, and canyoning probably won't be your jam if you're deathly afraid of heights. As always, it's a good idea to assess the risks of any outdoor activity for yourself and put your safety first.
If you're keen for even more great tips, insights, or just some everyday fun, check out the Choice Reads blog whenever you've got some down-time.
30 May 2020