5 unbreakable rules for baby shower planning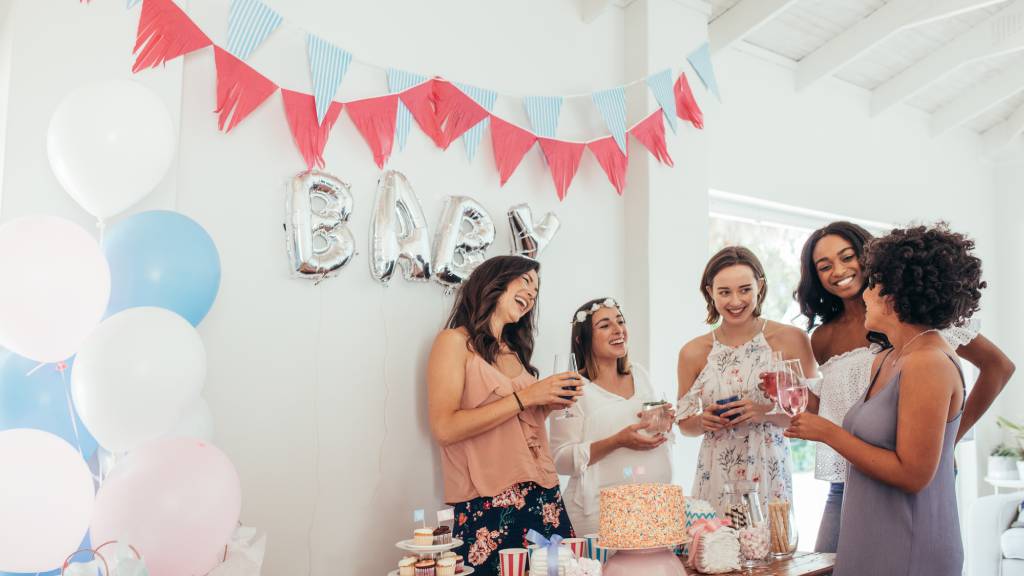 The crinkle of wrapping paper, the softness of tiny woollen baby booties, and the sheer excitement among expectant mums – baby shower planning is a special honour.
It's also the time to set aside the usual jokes you might make about your best mate giving birth to a little monster, or constantly asking if her belly button has popped yet (no blame – we've all cracked these jokes with siblings or best friends before).
Here are a few key baby shower planning rules to live by.
1. Don't completely surprise the mum
Not only do you want to avoid a shock so big that it jumpstarts the labour process, you also don't want to put your mate on the spot when she's not feeling up to it.
She may be dealing with nausea, discomfort, general fatigue, or any number of other difficult situations that can pop up (belly button excluded) later in a pregnancy. She might also have staked out the couch and Netflix for the day, and we all know how upsetting it is to have those kinds of plans upended.
However, you can still partly surprise her! Instead, set up a decoy plan, such as a nice lunch with a couple of friends, then have everyone turn up for the big surprise. This way she knows to expect company, but still gets that special unforgettable moment with loved ones.
2. Cut out the embarrassing games
Embarrassing games can be popular for baby showers, but a mate – a real mate – won't run the risk of genuinely upsetting a mum-to-be.
She might be feeling self-conscious about her body or simply frazzled and too on edge to be the butt of the joke. Whatever the case, you can save those embarrassing games for your next hen's party and make sure any games or activities at the shower uplift and support your friend.
For some fun baby shower games that everyone will enjoy, take a look at the huge selection on Bump and Baby.
3. Consider a group present
Baby shower gifts can be a touchy subject, with general awkwardness abound when guests are forced to watch as the almost-mum tears open presents. This can mean double-ups, the natural inclination to 'compare' gifts, or the uncomfortable moment when a guest didn't realise a gift was expected at all.
Instead, consider a group present. This could be a more expensive item that you all chip-in towards, or an agreed collection of similar items such as nappies or baby books. Happy Mum Happy Child has an excellent list of products for both mum and baby that you might consider.
Or, it might be easier to suggest a gift registry, as many mums already have a few things sorted. This will help to avoid double ups and ensure she gets exactly what she needs, while also allowing guests to chip in or choose gifts within their budget. Global Baby has a great registry service you can try.
Another thoughtful idea is to all provide 'vouchers' or 'IOUs'. This could be for a home-cooked meal, a night of babysitting, a mowed lawn, a grocery shop, or any other gesture that will greatly help a new mum (and dad) in the first few months of babydom. Make sure that guests follow up, as the new parents may not be comfortable redeeming those vouchers!
4. Invite all the mates
Baby showers are traditionally a 'women's event', but some mum's-to-be might love to have their partners and close friends (of both genders) and other children (nieces, nephews, best-friends' babies) also join in on the fun.
If this is the case, make sure the dad knows he's an expected attendee, as well as male friends, partners, and children. Excitement about a new baby isn't limited to one gender, and it would be unfair to deprive anyone of cake and snacks. Speaking of which…
5. Make sure there are cake and snacks
Cake should be at the heart of any party. It should be at the heart of every day, too, but you can't win them all.
It can be themed, triple-tiered, or something simple, so long as it's tasty and big enough to share around. It should also be joined by a variety of food options (aim for at least one green item), so your guests don't go hungry.
KidSpot does a great rundown of baby shower food guidelines, including a handful of recipes. Don't forget that you can ask your guests to bring a plate each to share the workload and cover all your bases in terms of dietary requirements!
Baby showers, like weddings, graduations, and birthdays, are all precious life moments. They're good times to be thankful for these shining highlights of life. They can also be a reminder of how life insurance could assist you in protecting your family in these special times.
12 Aug 2020