How to child proof your devices [Checklist]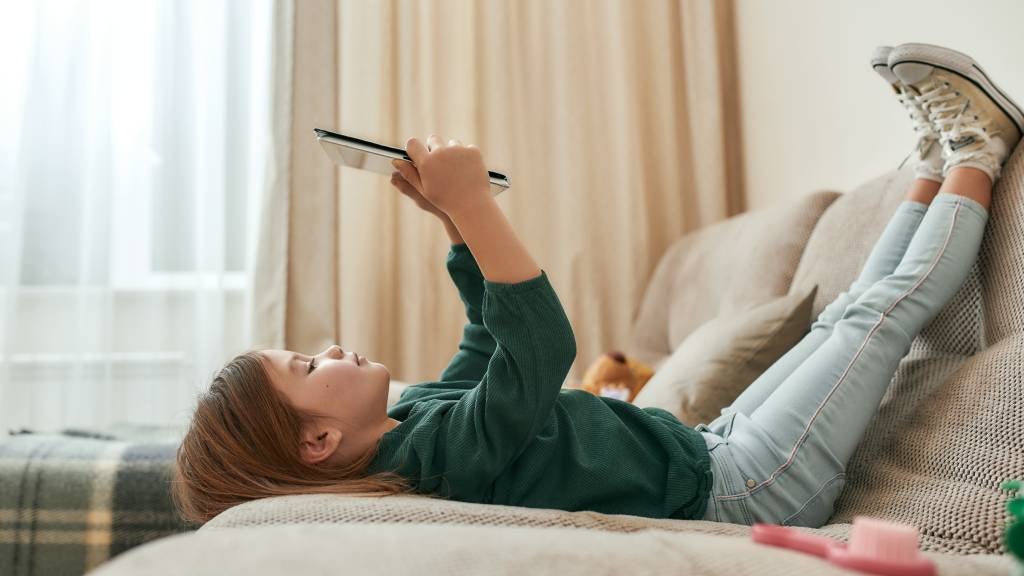 You might've grown up in a world without mobile phones. Or at least, not the kind with games on them.
Kids these days grow up knowing that phones are filled with wonders – bright lights, fun games, and so much more.
Naturally, us grown-ups need to rein it in a little so they don't end up accidentally locking you out of your phone, racking up high bills on games, or discovering the less pleasant aspects of the online world.
Here are some way to childproof your devices so they can't do much more damage than a sticky screen.
Lock everything
Modern phones all offer the ability to add a lock to the home screen. You can do this with a PIN number, a fingerprint, or even facial recognition.
This can be a great start to ensure your little one doesn't access your phone while you're not looking.
Create a new user profile or use Parental Controls
Both Apple and Android offer options for parents to set up specific user profiles for children. For iPhones and other Apple devices, you'll find these options under Family Sharing, whereas on Android this is known as Family Link.
Whichever system you use, these user profiles allow you to have greater control over their access. This can include content and communication restrictions, screen time limits, filters on search, controls over what they can purchase, and more.
Another great option could be to set up parental controls, which offer the same benefits without needing to set up a whole additional user profile.
Screen pinning
Screen pinning is an incredibly handy tool that you can use for your kids, or for nosy nellies.
Essentially, it means you can 'pin' a certain app to the screen, such as a game. Then you can hand the phone over to a child, safe in the knowledge that they will not be able to leave that app and get up to trouble elsewhere.
You will then need to enter your PIN to unpin the app. This tool is only available on Android devices and is known as Guided Access on Apple devices.
Back up your phone regularly
Imagine a toddler picking up your phone to play with. It's locked with a PIN, so you're not worried about them accessing the apps or deleting anything.
Nek minnit, you're locked out of your phone. And these days, new security measures mean there aren't many other options but to start over.
For Apple devices, you will need to make sure you back-up your phone regularly so you can erase and reset the device with all your information.
On Android, you will need to erase and reset your phone from another device.
Getting locked out permanently is one of the worst-case scenarios, so it's best to be prepared with regular backups, just in case.
A strong phone case
Children might be cute, but they can also be surprisingly destructive considering their tiny size.
That's why a good phone case is a must, because childproofing your phone also means protecting the hardware.
A good case (such as an OtterBox) is drop-proof, water-proof, shock-resistant, and just about everything-proof.
Apps to restrict access
As well as the existing tools on your phones and tablets, there are plenty of apps such as AppLock and Kids Place, can add extra levels of control for safe browsing and childproofing.
AppLock
AppLock allows you to pick and choose specific apps to lock with a passcode. It can even hide specific photos and videos, so private memories are invisible if someone is scrolling through your phone.
This can be a great tool for older kids if they have a good understanding of online safety, but you still wish to protect certain parts of your phone.
Kids Place Parental Controls
This app provides a number of handy controls in one.
It allows you to approve only certain apps, monitor how long a child is using those apps, keep track of a child's location, and more.
There are settings for toddlers and teens and everything in between, giving you a suite of parental controls in one easy-to-use hub.
Protect your loved ones
They might not realise it when their screen time manager shuts off their game, but we do all of this (and so much more) for our kids. To find out more about childproofing your devices, click here for our downloadable checklist.
Another way you can give your family some financial protection should the worst happen is to consider OneChoice Life Insurance. Request a quote to see how much your premiums could be.
How to child proof your devices [Checklist]
9 Oct 2023