Meal prep 101: How to stick to a budget and meal prep healthily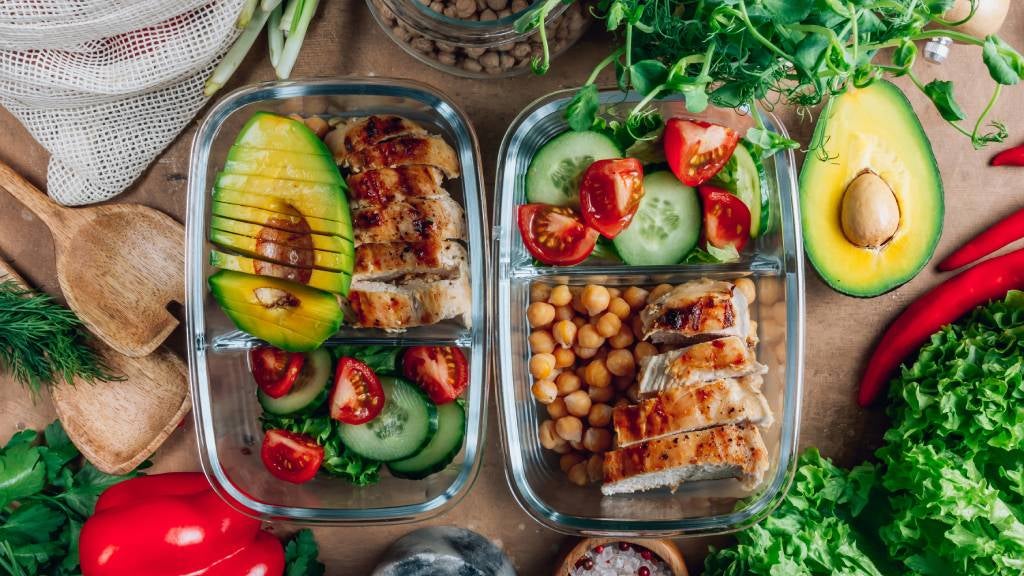 It can seem like some people are simply born with the innate skill of meal prepping.
However, anyone can become one of those organised, healthy-eating, time-saving meal prep gurus – especially with the help of these meal prep tips and healthy eating ideas.
Setting a realistic budget
Food costs in April 2023 were a full 12.5% higher than they were in April 2022 (and it's not like food costs were as cheap as chips back then either). As a result, we're all having to readjust to the higher cost of living, which means finding ways of making each food shop go further and setting realistic budgets for your food spends.
One way you can set a realistic budget is to hold onto a month's worth of grocery bills and any receipts from takeaways. Then tally how much those bills would have been without splurges such as treats or buying things out of season – see if you can bring your bill for next month down to this level with meal prepping. Rinse and repeat.
Plan your meals
Planning your meals once per week can save you massive amounts of time, cut down your food bills, and help you eat better all at once.
Research shows that the primary benefits of meal planning are around the savings on costs and reducing food waste.
It's not hard to see why. When you plan your meals, you can plan to include healthier foods, rather than scrambling at the last minute on a Wednesday night and eventually opening a food delivery app or ending up at the local fish and chip shop.
Then when you prep your meals ahead of time, there will be no last-minute supermarket runs, and no wasting time wondering what to eat.
Incorporate whole foods in your diet
Whole foods are essentially just anything that hasn't been processed. Think fruits and vegetables, nuts, eggs, lean meats, and whole grains.
Your entire diet doesn't have to be whole foods, but preparing your meals with these items as the base could help you to cut down on processed items and ingredients, leading to improved overall health and wellbeing.
Shop seasonally
When it comes to meal prep, shopping seasonally is key. This will help you cut costs by not buying things that are out of season, but also enjoy tastier meals, as seasonal produce typically tastes better and is fresher.
Not to mention, when you look at seasonal produce, it can inspire recipes and meal prep ideas. For example, if it's late summer or early autumn, you can almost definitely add delicious corn on the cob to your meal planning.
Avoid food waste
Every year, Kiwis throw out more than 100,000 tonnes of perfectly good food. That equates to wasted grocery bills that will make your eyes water more than cutting up 100,000 tonnes of onions ($1,520 per household!).
With meal prepping that uses what you already have in the fridge before it goes off, and by only buying what you need for your meal planning, you may be able to cut down on food waste in your household.
For example, your routine could include buying fresh ingredients in bulk at the start of the week, incorporating half of these into recipes from Monday to Wednesday. With the right pre-planning, you'll be able to freeze and preserve the remainder of your produce for use later in the week, in meals such as stir-fries or curries.
Stay consistent
Despite various myths, small changes can turn into habits in approximately 30 days. That means you'll need to work to keep at your meal prepping for more than two months before it becomes so normal that it's a habit.
To help stay motivated, try comparing your recent grocery bills and spending to those from before your meal prepping routine. The noticeable difference should be something to take pride in!
If you can stick with it for that long, you might also be able to notice the change in your waistline and your wallet as well.
With all that meal prepping and healthy eating, you deserve a little treat. OneChoice Life Insurance offers lower premiums for healthy lifestyle decisions such as being a non-smoker. Request a quote here or contact 0800 005 819 to see how they could assist you.
28 Sep 2023