Packing for a move like a pro: 10 moving and packing tips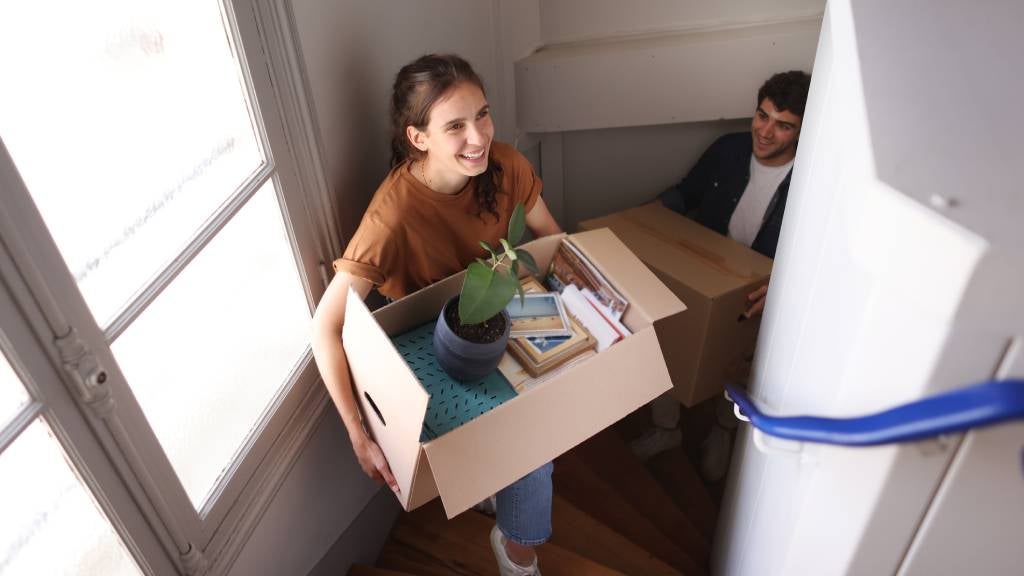 Moving house can be a pain, like taxes and stubbing your toe on the coffee table.
Unlike taxes and stubbing your toe, moving house can be enjoyable and quite exciting, when done thoughtfully!
One recent study found that almost half (47%) of people who were considering moving, said it was for lifestyle reasons, and 32% said it was to have more space.
So, whether you're making an exciting move for a better lifestyle or upsizing to grow your family, it can signal something hugely positive.
You just have to get through the packing and moving part first. So here are our top 10 tips to help lighten that load.
1. Begin with a clear out
As soon as you start thinking about moving, start clearing out your stuff.
Go through your clothing, kitchen, and garage one after the other, and be sure to have a snack or two as you work your way through your cupboards and freezer as well. If you have non-perishable food that you don't want to eat or take with you, consider donating it to your nearest food bank.
Slowly but surely, you'll cut down on the stuff that's been accumulating in your home and reduce the amount of things you'll need to take with you to your new place.
2. Get quotes from several moving companies
Don't stop at just one quote – you'll have no idea if you're getting a good deal until you compare it to at least another quote or two.
Be sure to factor in additional extras, like whether they provide boxes, or even recycle your boxes and packaging materials once you're done.
You can use a tool like MovingPros to get quotes from multiple moving companies at the same time.
3. Use the right sized boxes
Getting the wrong sized boxes is a rookie moving error that you'll only ever make once, so let us help you avoid ever doing it: get a variety of box sizes for your move.
You don't want a large box loaded with books that's going to put your back out the second you try to lift it. And you don't want boxes to be too small for larger, lighter items.
Invest in a range of box sizes, with most being medium-sized, to help your packing and moving go a little more smoothly.
4. Colour code your boxes
You can save yourself from writing 'bathroom' and 'kitchen' over and over by buying a cheap pack of colourful stickers from any stationery supply store.
Then simply stick them on the tops and sides of your boxes for quick and easy identification and placement when you reach your new property.
5. Use your suitcases for heavy things
Your suitcases are ideal for heavy items, as the wheels and handles make it easy to drag them around instead of lifting them.
This can be ideal for photo albums, books and magazines, crockery, or even the heavy sauces and tins of food from your pantry.
6. Take photos of your digital set ups
The back of your television, sound system, and desktop computers are probably an assortment of wires -important ones that no one actually knows much about.
Your future self will thank you (and might even shout you a treat) for having the forethought to snap a quick photo so you know where everything plugs in once you're ready to get set up at your new place.
7. Give your friends specific tasks
You know you're doing well in life when you have friends who will help you to move.
But you do need to be thoughtful about how you use their help.
For example, don't get them to unpack your kitchen – they will almost certainly put the glasses in a weird place and the cutting boards in the laundry and you'll have to redo it all later.
Instead, get them to set up and make the beds, set up the television, clean the old place, carry boxes, and be in charge of food and drinks throughout the day.
8. Move your wardrobe with rubbish bags
Don't bother taking your clothes off their hangers.
Instead, simply pull a rubbish bag up onto a large section of your wardrobe, tie it off at the neck of the coat hangers, and throw the whole thing in the car. Then you can simply hang them all back up in the new place (This is another good task for helpers!).
9. Pack a 'weekend bag'
Before you move, pack a bag as if you were going away for a weekend with all the essentials.
Throw in a few changes of clothes, any medications and toiletries you need, your chargers, a couple of towels, and other basics. Then add a couple of rolls of toilet paper.
This way, even if you arrive in your new place and can't be bothered unpacking anything right away, you'll have the essentials on hand to see you through for a day or two.
10. Plan a housewarming in one month
Have you ever moved house and spent the next two years looking at some of the boxes, telling yourself you'll empty them next weekend?
If you know you're something of a procrastinator, give yourself a 'deadline' to have everything unpacked. A housewarming can be the perfect motivation for sorting through it all and turning your new house into a home.
Bonus round: Get your insurance sorted before you move
You want to get your paperwork in order such as your home insurance to be updated from the second you take ownership, or from the minute you arrive if it's a rental. Make sure you take the time to get all of your relevant insurance policies are updated or locked in before moving.
And while you're at it, now could be a good time to sort your life insurance, too. It can help your loved ones if the worst should happen to you, with a payment that can be used for things such as the mortgage, to paying credit card bills or schooling costs depending on the circumstances. Request a quote and find out more today.
25 May 2022