Kiwi Housing Trends Report 2022
Buying a home has always been a common life goal for most Kiwis, but the rising cost of living in New Zealand is changing the way many of us think about home ownership.
As property prices soar, the once idealised 'Kiwi dream' of owning a free-standing house is becoming increasingly unattainable for most, putting a strain on our wallets and our emotional wellbeing. In turn, we look to alternative living arrangements to call home, reshaping how and where we live today.
Based on a survey of 1,128 Kiwis, the Kiwi Housing Trends Report 2022 explores how perceptions of the New Zealand property market have changed over time, from attitudes towards housing affordability to preferences around living arrangements.
Locked out: Rising property prices bite first home buyers
Housing Affordability
As median house prices in urban areas like Auckland hit the millions, it's no surprise that the majority of first home buyers (90%) feel locked out of the property market. According to the research, as many as three in four of us (77%) agree home ownership in New Zealand is financially out of reach and a further 90 per cent of first home buyers admit that skyrocketing prices have delayed our ability to own property.
Carrying this burden on our shoulders, many of us are having to make compromises to break into the property market, with the most common approach among half of us (51%) being cutting back on our lifestyle expenses. Around a third of us are willing to give up travel and holidays (36%) or settle for more affordable areas (33%), while just over a quarter (26%) of us are prepared to work overtime to keep up with surging property prices.
This financial strain becomes an emotional burden for many first home buyers, with more than half (55%) feeling anxious about housing affordability daily and close to half (46%) even feeling hopeless.
While the property market is expected to go through a 'cooling off' period off the back of recent government announcements that caps for first home buyers will be scrapped, as many as three in five (61%) of us only expect housing affordability to get worse in the next decade. Coupled with the rising cost of living, over three-quarters (77%) of us actively looking to crack the property market have given up hope that we'll ever be able to buy our own home.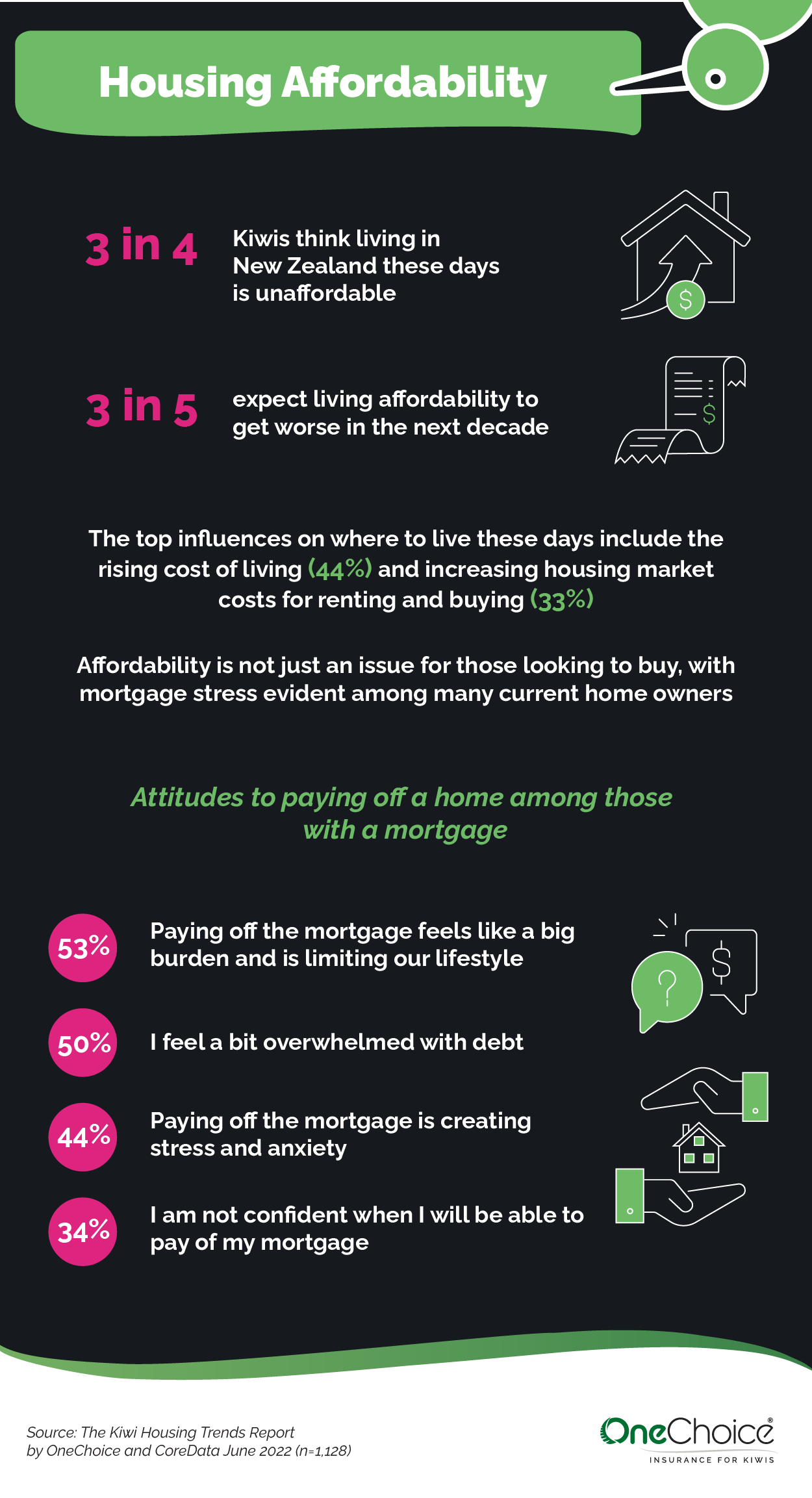 Rental Market
Renting has become an alternative for many of us who are waiting to break into the New Zealand property market, although most of us have not taken this decision lightly. In fact, two-thirds (67%) are unhappy to be renting and would rather buy, while three-quarters (76%) say we'd prefer not to rent but feel we don't have a choice.
As the average monthly rent hits $1,405, the rising cost of rent is a key reason for this discontent, with almost all of renters (95%) agreeing that it is overpriced these days and a further four in five (83%) of us agreeing that our monthly rent has increased significantly in the past 10 years. Those of us who identify as Gen Y and Gen X seem to be hit hardest by inflating rent prices, paying on average $2,513 and $2,385 respectively per month.
Interestingly, nearly three-quarters (70%) of us agree that the pandemic has added to the challenge of finding an affordable place to rent, making it both harder to find suitable rental properties (72%) and making those that are suitable much less affordable (75%).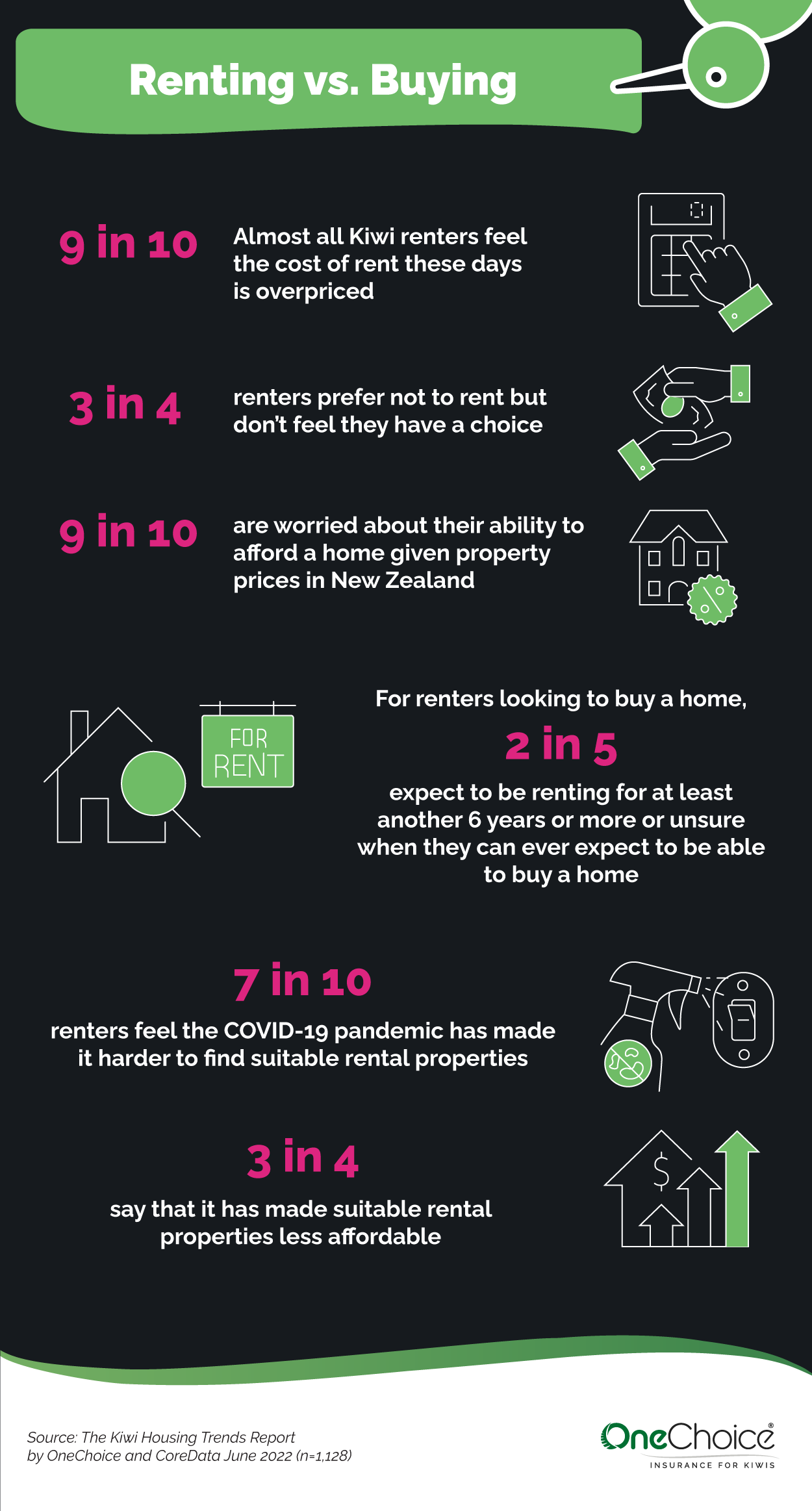 Reimagining the 'Kiwi Dream'
Changing Tradition
As home ownership in New Zealand becomes less unattainable, the notion of the Kiwi dream has transformed from the traditional idea of owning a free-standing house towards a multitude of new definitions that better suit our lifestyle nowadays. In fact, four-fifths (81%) of us agree that the 'Kiwi dream' has changed over time. Among this group, more than four-fifths of us claim the 'dream' has changed over time (81%) with 83% of those stating it is becoming less traditional and less achievable.
For most of us, becoming financially independent has now become the most cited personal definition of the Kiwi dream (68%), followed by owning any kind of home (53%) and having the ability to take extended time off each year (43%).
A reimagining of the Kiwi dream is particularly common among younger generations, with Gen Z being the least likely to define it as owning a free-standing house on a quarter-acre block (28%). However, while our attitudes towards home ownership move with the times, around half (53%) of us who identify as Gen Z admit we feel pressure from older generations to aspire to more traditional versions of the Kiwi dream.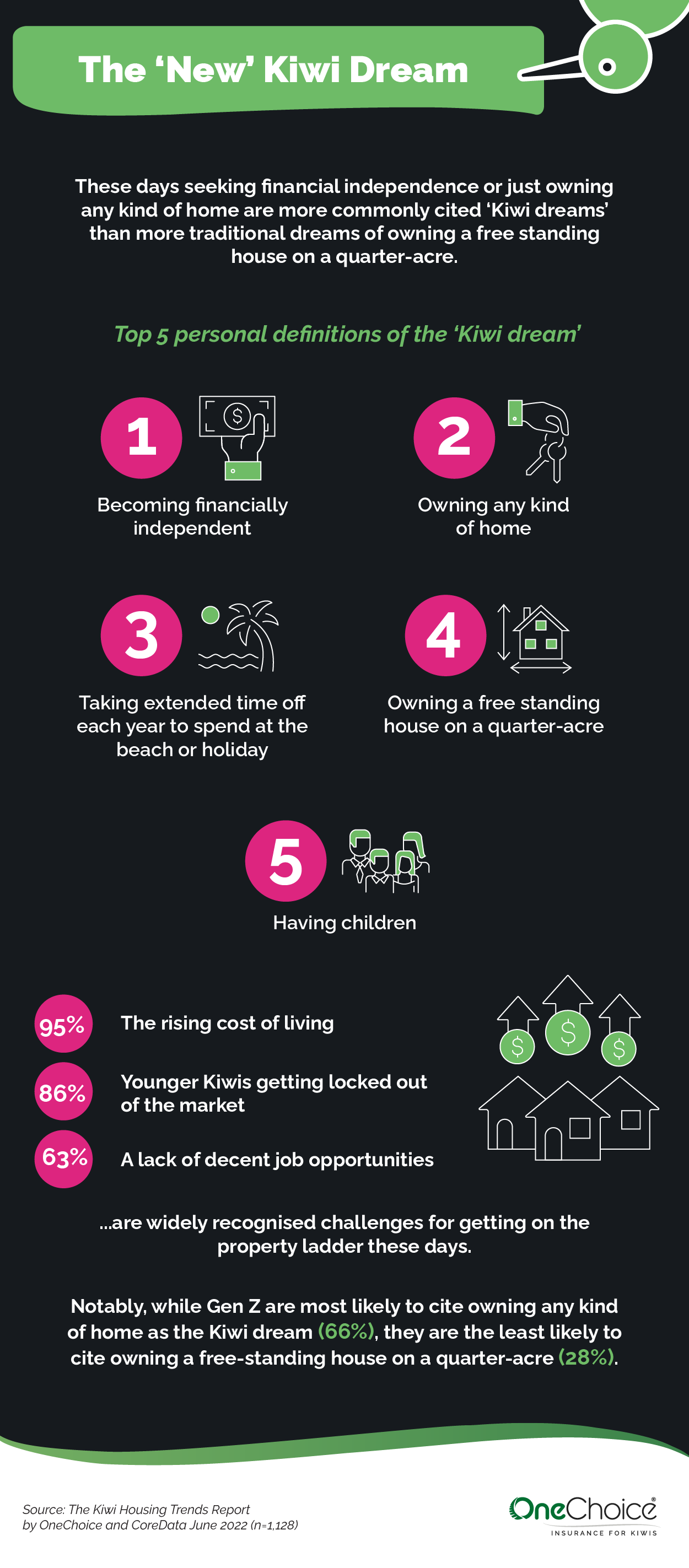 Emerging Housing Trends
While we adapt our expectations to keep up with the demand of skyrocketing property prices and rent, interestingly, most of us (87%) still believe that home ownership is a life goal that every adult Kiwi should aspire to achieve.
As such, for many of us, the types of places we call home are vastly different now than they were in the past. Nowadays, townhouses (22%) are the most commonly preferred types of property to live in, followed by bungalows (16%), rural properties or farmhouses (14%) and villas or cottages (14%).
While most of us are more likely to prefer living in an outer (37%) or inner (36%) suburban area than coastal, regional, or inner-city locations, the cost (71%) and ease (64%) of maintaining a property are the top considerations when deciding living arrangements. In fact, these factors trump finding a property that is good value for money (61%) or having enough space for the whole family to fit comfortably (58%).
For the two in five (43%) of us who have changed our preferred living location in the past decade, the rising cost of living (44%) has been the main factor. In fact, as many as a third (32%) of us admit that we would like to live in a different location, and of this group, more than two-thirds feel they are held back by finances (69%).

Sandy Foster of the New Zealand Housing Foundation reflects on how the Kiwi Dream has changed over time: "For the past 60 years, we've lived with the notion of a quarter acre lot with a house and a lawn. This worked well while land was relatively cheap, private transport was cheap and we had plenty of time on our hands, but now we live in a different world. People are working more, spending more time commuting and we have so many more demands on our time. I think younger people may still aspire to the idea of a family home as a means of building wealth, but they don't necessarily want the maintenance and drudgery that goes with owning a quarter acre. The other change that is happening is that people will increasingly look to other forms of investment to create wealth rather than seeing their home as their major asset. A combination of the increasing unaffordability of homes and the increasing ease of access to regulated investments in shares could reshape the Kiwi Dream."
Download the full research report
29 Jun 2022