Travel tips for an affordable family holiday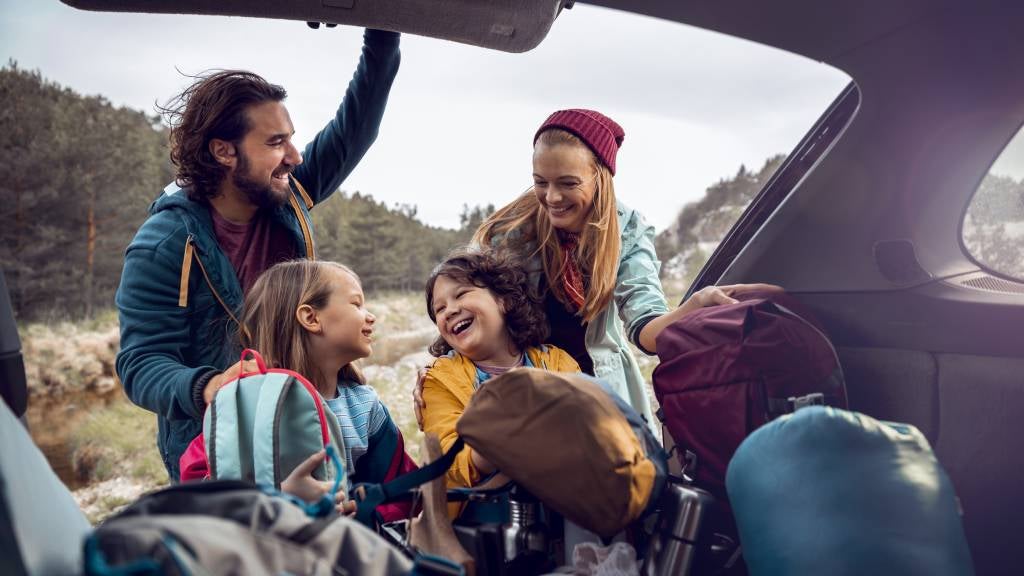 For a nation of adorable flightless birds, we're certainly known for spreading our wings and travelling.
With a place as beautiful and diverse as New Zealand to call home, it's no wonder so many of us love getting into the backyard to explore. One survey showed that almost three-quarters (71%) of Kiwis are planning on taking a domestic holiday within the next year, and of those, almost half already have it booked.
That's not to say we're all ready to head out and throw every dollar in the bank account on a trip. Not when 67.9% of us are concerned about the rising cost of living, according to our very own Kiwi Family Survey.
Instead, we want the best of both worlds. We want to see New Zealand in all its glory, but ideally while keeping the family holiday affordable.
Here are our tips on how to walk that line:
House swap with another fam
Accommodation is one of the biggest costs of any holiday, but what if you didn't have to pay for a cent – and if you had someone looking after your pets back home as part of the deal?
House swapping is when your family and another family switch places for your holiday. You both get free accommodation as part of the deal, and you get to explore a new location. Some of them even include the family car, so you can get around without needing to rent a vehicle – bonus savings!
Plus, you can also swap tips for family-friendly things to do in the area and the best restaurants and cafes.
Travel during shoulder seasons
The summer school holidays are the most popular time to travel for obvious reasons, but to save on everything from accommodation to activities to flights, opt for the shoulder seasons instead.
That is, the autumn and spring school holidays.
Studies have shown that shoulder season flights can be as much as 23% cheaper than peak season travel, so it may be able to minimise costs.
The weather might be a little temperamental, but most parents are pros at coming up with rainy day activities, and there are usually plenty of indoor attractions for kids to enjoy around the country as well.
Don't forget about holiday parks
Even if camping isn't your jam, don't forget that many holiday parks have cabins and rooms available.
They can be a highly affordable option compared with hotels and come with the bonus of amenities such as playgrounds, plenty of other kids running around to keep the kids entertained, and often a beach, lake, or river to enjoy as well.
For example, Tahuna Beach Holiday Park in Nelson offers simple cabins for three to six people, plus self-contained motel units. As well as being relatively affordable, this spot boasts Wi-Fi, BBQ areas, a café and shop, mini golf, games, playgrounds, live music, a summer events programme, and more. Not to mention the world-class beach out the window, and Nelson township just a few kilometres away.
Make the most of a relocation rental
Tourists often arrive in New Zealand at Auckland, pick up a rental, and drive it all the way south on an epic Aotearoa road trip. They drop their rentals off in Queenstown or Christchurch before flying out again.
This phenomenon is so common, in fact, that car and campervan rental companies have to find a way to constantly bring those vehicles back up north.
That's where you and your family budget travel come in. Because if you can commit to returning a rental from one predetermined spot to another, you can often have it for free or just $1 per day.
Some of the rental car company details can be found online, including NZ Pocket Guide car rentals, TransferCar and JUCY Relocations and you could find perks such as:
Free/$1 daily rentals
An included ticket on the Interislander
The first tank of petrol for free
Unlimited mileage
Campervan rentals (so you can stay in affordable campgrounds instead of hotels etc)
Generous timeframes to get from point A to point B
With a relocation rental, you can plan an epic roadie of your own at a fraction of the usual cost.
Don't forget: Hidden extra costs
When planning travel, you think about the big-ticket items: Flights, vehicle rentals, accommodation, and activities.
But if you're on a budget, it's also a good idea to consider the hidden costs of travel, and plan ways to avoid them or keep them to a minimum.
Here are some of the hidden extra costs of travel and how you can keep them feasible:
Food and drinks: Eating out for every meal can cost a fortune, so stock up at the supermarket when you arrive and try to avoid eating out for at least two meals per day.
Souvenirs: It's fun to pick up souvenirs but try to set a budget and stick to it so you don't end up going overboard. Consider giving the kids a limit to help teach them about budgeting, so they still get to choose a new treasure, but won't end up with a new toy from every stop.
Forgotten items: Have you ever had to buy an emergency umbrella while travelling? How about extra socks, a sunhat, or charging cable? Prepare a packing list before you travel to avoid having to buy new items while on holiday that you already own at home.
When we asked what family values means to Kiwis in our Kiwi Family Survey, 'spending time together' was one of the top responses. Taking a holiday together is a beautiful way to do that, and keeping costs low on those trips is just the cherry on top.
Another one of the top responses was 'taking care/watching out for one another'. There are many ways to look out for your family, and one of them could be considering life insurance. OneChoice Life Insurance could provide a payout to your family when they need it most, so request an info pack to learn more today.
3 Jul 2023